DEAR FRIENDS IN THE WORLD

After my birth in 1975 in Gourma-Rharous, my parents gave me the name Abdramane Camara. Today I am known by the nickname "Dra" This is the name with which my friends come to me.
In the tourism sector I have evolved since the year 1996, this means twelve years of experience in organizing trips.
With a level of training DEF 2 I served successively to 3 travel agencies and in cooperation with a hotel in Sévaré as a driver and guide.
In addition to good knowledge of the main tourist sites and monuments in Mali, I also know those ones of Burkina Faso, Mauritania and Togo (probably not all of them). I also discovered places very pretty but not or little known. My wish: To have the opportunity to show those to visitors of Mali. The language should not pose a problem because I speak, read and write French and I'm doing a lot in English.
Last year I was finally ready and Barhia Travel Agency was founded February 22, 2008.
The passenger satisfaction in their individuality is one of my objectives. But there are others too:
Create jobs for young people of Mali,
Work in the tourism to benefit the villagers and the disadvantaged,
Safeguard the cultural heritage and nature.
I want our beloved world is worth living for us all, and it remains peaceful and liveable for our children.
.... and was lied to deny this last objective:
Earn some money too to support and feed my family.

The Barhia is a dune of more than 30km length in the region of Timbuktu. It is located south of the River Niger in Gourma-Rharous.
The agency itself is located Sévaré in the Mopti region.
Welcome to the agency font>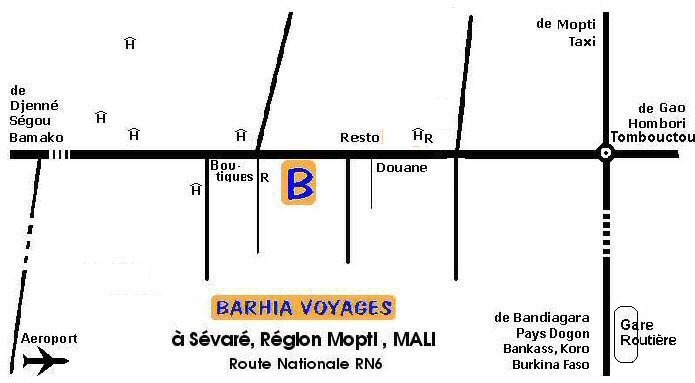 Barhia travel is registered under the Counter Unique number 08...02/VS/API-Mali GU- on February 22, 2008.